ou mentioned camp in Germany so you might like to see these, they were
all taken in 2005when I revisited belson with my grandson 60 years to the
month when I was first there. He wanted to go cos he was doing a project on
germany from before 1914 to the end of ww2 for his history exam at school. I
arrived in belson in feb 1945 about 8 days after the camp was found and as
engineers some of my company were sent in to help clear up and post guards
around the camp to keep folK out cos of the rabid typhus there .the pictures
with the exception of the one of me were taken  during  our visit  to
illustrate his report. No need to tell you what it was like when I first
went there and what me and my mates feelings were, at the time I saw all the
major guards there, Joseph  Crarner the camp commander, Irma grease? And
ilea forester the notorious German guards, and doctor Klein who was a
protégée of Mengle the doctor who experimented on children at Buchenwald?
And who I had the good fortune to see all of them committed to hang in the
Luneburg trials I attended in Luneburg in about cot 55. I managed to get
there by driving my CO there who was to be called as a witness and managed
to see most of the trials that lasted a few days. Our main reason to be in
the area was to convert a castle in Celle the nearest town into a reception
area for our troops who had been prisoners of war in Germany and who had
escaped the camps as the Russians over run them in east Germany. In the
castle they got showers that we had erected for them, food , all new
clothing and after 2 night they went back by lorry to Brussels  from where
they were sent home. The pic of me was on my armoured car that I drove in
that area at the time this was just over 2 months before the war ended.....
If you enlarge the pic of the grave you will see it's the grave  of Anna
frank and her sister who died there of starvation.
PS  don't believe any of that bull sh1t you read about who found the place
and what they did and the one about the major
Who stuck the barrel of a tanks gun through the guard house window? It
didn't happen that way, Oh and the collection of pics is of the accused
belson Gaurds in the luneberg court house and I was sitting  quite near to
where the official  pic was taken from.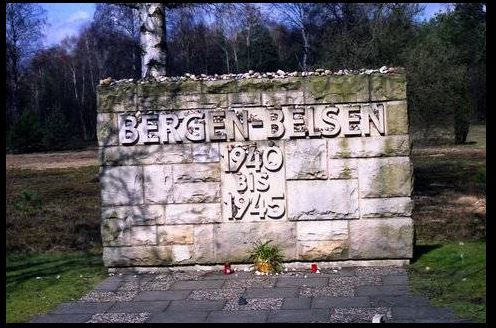 .jpg[/img][/url]